Modular Homes Vs. Stick Built
Pros and Cons of Modular Homes
October 5, 2015 by Bill Gassett 7 Comments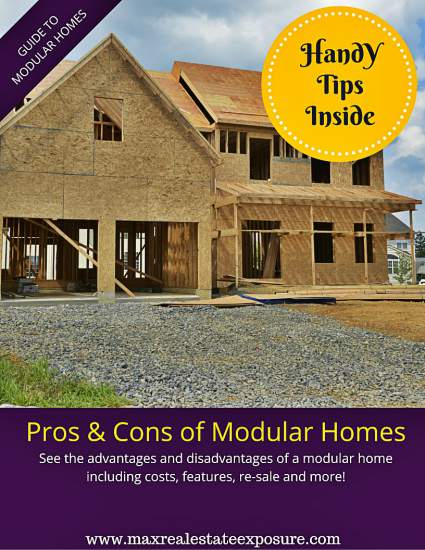 Once considered a cheap and low-quality housing option, modular homes have come a long way in recent years. They offer home buyers another way to achieve their dream of owning a home, and come with several advantages over regular, "stick built" homes.

However, buyers should also be aware that modular homes do come with some drawbacks, and ultimately are still seen as less desirable than a stick built home by many people. Below you will find a comprehensive look at the advantages and disadvantages of modular homes.

The Benefits Of A Modular Home

We can start with the benefits of a modular home, some of which can make this type of home very appealing to buyers. These include:

High Quality

Modular home manufacturing has improved significantly in recent years, and can often compete toe-to-toe with the standard stick built home. In fact, sometimes the quality can actually be better when compared to some stick builders. Modular homes are built in a factory setting, on an assembly line, which means the building process for all the pieces is under intense quality control.

A stick built home, on the other hand, is built from scratch on the land where it will sit. Being in the real estate business for many years I can tell you there have been times where a builder has not done an adequate job of keeping the lumber used in construction protected from the elements. Problems can occur from this kind of neglect but it is only years down the road you find out about it.

Speed Of Construction

Modular homes can go up quickly, often faster than a regular stick built home. If you consider all the areas where delays are possible when building a regular home, it is easy to see why this is the case. The materials for a stick built home may be sourced from all over the country, and each different supplier must get the materials to the builder on time.

There are many opportunities for things to go wrong just in the transportation process. A modular home is one of many other homes being built by the manufacturer, which means that supplies are usually abundant to get the job done on time.

Weather can also be an issue with a stick built home. If it is raining, snowing or dangerous outside, such as with thunder storms, then builders will have to stop until the weather improves. A modular home is mostly constructed indoors, where weather is not an issue.

If you are have any time constraints whatsoever in transitioning from your existing home to a new place, a modular home could be something to consider just for the savings in time.

Less Expensive

Because the modular home is one of many being built by the same manufacturer, with less possible down time, there are less costs associated with its construction. The cost of a modular home can be up to 15% cheaper than a stick built home, and possibly even more affordable if you are building your home in a location that is hard to get to or far from major manufacturing centers.

More Financing Options

In addition to the regular financing options that most home buyers have, you also have the option of financing the home through the manufacturer. Sometimes manufacturers will offer better financing options than other lenders, which means you not only get a less expensive home, you also can often get more favorable financing. This of course is not always the case but certainly worth looking into.

Not A Mobile Home

A modular home is not a mobile home, or a manufactured home. Although mobile homes have come a long way as well, and are now built to much higher standards than they once were, they are still not a particularly good value. Their resale value is not as good as a modular or a stick built home, and they tend not to last as long as a modular or stick built home.

Here are some additional facts you should know about modular homes.

Disadvantages Of Modular Homes
There are some issues that you should be aware of when you start considering buying a modular home. Although modular homes do offer plenty of advantages, they are still not quite in the same league as a stick built home – particularly in the perception of the public. Something that should never be downplayed is perceived value. A few years ago I was selling a home in Franklin MA that happened to be a modular. This stigma surrounding the fact it was modular made it a more challenging sale. The home eventually sold but it took a bit longer than most similar homes in the price point.
While the thought of building a modular home could have numerous advantages in your mind, it may not for numerous buyers when it comes time to sell it. You should get a handle from local real estate agents on how the general area views the thought of buying a modular home.
Lack Of Customization
Modular homes can be built in a variety of configurations, but because of the way they are manufactured, it is not as easy to customize them as it is to customize a stick built home. The builders of your stick built home, if you wanted them to, could build you practically anything you wanted – a living room with lofts, a tower off of your master bedroom or a circular floor plan. Modular homes are not quite so flexible.
More Complicated Loan Process
A mortgage for a stick built home is something that most people are familiar with. But the payment process for a modular home involves a few more steps. The builder will want to be paid in full before the home is finished, and will often want periodic payments to finance the building process. You may need to get a construction loan to first pay the builder, which will be changed to a regular mortgage after the home has been completed. Make sure you understand how to get the best interest rate on your loan. There are times when buyers do not spend the appropriate amount of time researching the best loan programs for their specific needs. Taking the time to understand exactly what type of loan works best is a big part of not overspending on a mortgage. Don't make one of the mistakes outlined in the article.
Cost Of Land
While the modular home may cost less to build, you are still going to need to purchase a piece of land to build the home on. The cost of land combined with a house can be a bit shocking to people who are not prepared for it. You need to be prepared to buy your land and your home if you choose to go with a modular home. One of the areas that people underestimate costs is with land development. If there is no town sewer available in the location in which you are building make sure you understand how expensive a septic system can be. There can in fact be a difference from one lot to the next of ten's of thousands of dollars.
Land Restrictions
Although modular homes are much more in favor than manufactured mobile homes, there may still be neighborhoods or municipalities that will not allow you to build such a home. You want to make sure that the area where you want to buy land and build the home will allow it. In many areas these documents are known as restrictive covenants.
It is possible that long ago a restriction was put in place denying the ability to build a modular home. This was due to the perception years ago that modular homes were inferior products. In many cases people viewed them as "eye soars" due to their unappealing roof lines. It was not uncommon in fact to see many of the modular homes of years ago look something akin to an army barracks.
Perceived Quality Issues
In most instances, the components of a modular home built by a manufacturer will be every bit as good as the components of a stick built home, but everyone may not be up to date on this fact. If you are looking to impress, a modular home may not deliver in the same way a stick built home can. For some people public perception is irrelevant, but not for everyone. You may have to wait decades before the average person is clued in to the benefits and the excellent quality of many modular homes.
One of the distinguishing factors that people identified modular homes with years ago was the "popcorn ceilings" that often accompanied their homes. You could spot a modular the minute you walked in the door because the popcorn ceiling was a common trait. Talk to most buyers and you will understand the hatred associated with popcorn ceilings.
Issues With Selling The Home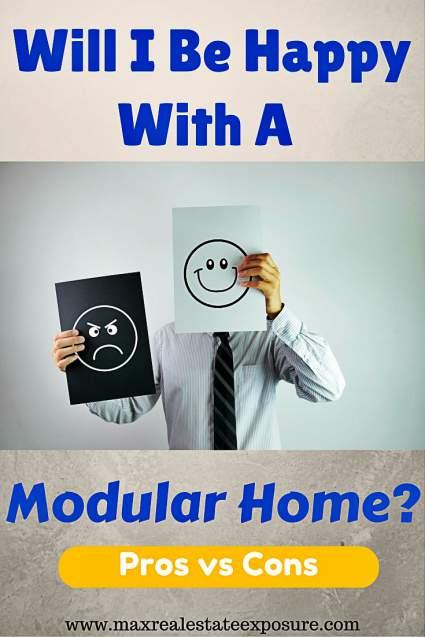 Home builders and Realtor's are aware that a modular home from a good manufacturer is a quality piece of real estate. In most instances, you should be able to enjoy an appreciation in the value of your home just as a stick built home owner would. However, you may also run into extra hurdles when you try to sell the home.

When buyers first look for homes online, they are looking at pictures and scanning facts about the property. When they notice that your home has been prefabricated, they may be initially turned off. Why buy a prefab when they could be a traditionally built home?

These initial reactions could make it harder to sell the home if you do decide to sell. You will need an experienced real estate agent and a bit of patience to reach the kind of buyers that can appreciate the quality and the value of your home.

Is A Modular Home An Option For You?

If you are the kind of buyer that is looking for the best deal and is up to date on the quality of many modular homes, you may be extremely satisfied with one. If you are a buyer who wants something uniquely yours, something customized or something that will impress the neighborhood, a modular home may not be the right fit.

There may come a day where the majority of homes are built modular, considering all of the financial advantages they offer. But that day is a long way off. Until then, owning a modular home is a choice that only certain people are going to be happy with. If you believe you are that kind of person, let your real estate agent know that you are open to modular homes. Your agent may be able to find you just what you are looking for. Just remember all of the pros and cons to modular homes that have been discussed here.
Other Helpful Home Building Articles
Use these additional helpful resources when buying a new construction home whether it is a modular or stick built home.